PETS LOVE PRIMAL
Primal Pet Foods has already changed the lives of countless dogs, cats, and pet owners. Read their stories and discover why Primal-fed pets stand out from the pack!
Brooklyn
Dayton, OH
When it comes to Willow's food, I am very picky on what she receives, ingredient wise. I used to struggle with Willow not eating, and her terrible hair loss, which was all a cause of her old diet. Now with primal, I love their ingredients, and have never been disappointed with any products if there's. Willow has gained more energy, more health fur, and is ALWAYS finishing her bowl of food! I don't know where Willow and I would be without Primal!
Nick T.
Wilmington, DE
Thank you, Primal Pet Foods!

I got my Boston Terrier when she was 4 months old. From day one she had runny stools and seemed to suffer from IBS. She is a nervous timid dog and I associated this with her digestive problems. I tried lots of different foods over the past 8 months, and much to my dismay, nothing worked. I took her to the vet and sure enough it was time for a prescription diet and she hated it. Another symptom that my dog exhibited was she was not much of food junkie, and she grazed on her kibble rather than devour it.

On a friend's advice, she suggested I feed her a raw food diet. I went to my local pet store and found Primal. I chose Primal Lamb Formula and defrosted a portion. Much to my amazement she gulped it down in less than a minute. I continued to feed her Primal, and for the past two weeks her stools are normal! I can't believe this and I appreciate your product so much. I continue to learn about your product offerings and we are now partners in my dog's health for the rest of her hopefully long life. thank you for giving my pup a new lease on life!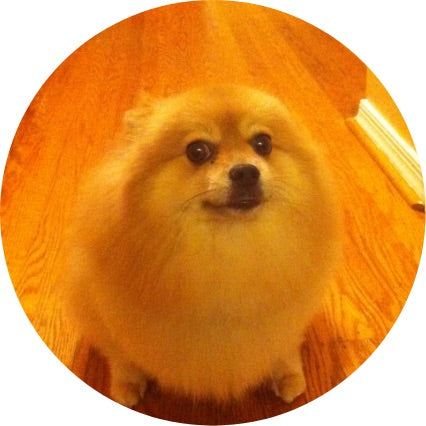 Michelle
Runnemede, NJ
My dog Sophie has been eating Primal for about six years now. We adopted her at a year old and she has been on Primal ever since. Our other new rescue spitz / pom is also now eating Primal as well. We had no transition problem with him at all. Sophie, despite her breed, has excellent teeth and has never needed anything pulled. When we adopted the other pom, however, he had to have 6 teeth pulled. I know that his new diet and lifestyle will at least help keep what teeth he has left in there.

Also, when we first adopted Sophie she had pancreatitis, which her breed is genetically prone to. However, we have not had any reoccurring issues with it and she is as healthy as can be. We are working on switching the cats over as well.
Becky & Rufus
Berkeley, CA
Hi! Me and my cat Rufus love your products! Ever since I switched him to a raw diet his health has drastically improved. Before raw he was always hungry, meowing for food constantly even banging his head on the kibble container to try and knock some out. He was overweight despite my diligent efforts to control portions and calories, and he was only three years old! He was constantly getting eye infections, had greasy hair (I had to bathe him monthly), would get hairballs, and was just all around lethargic. The breaking point was when I found out Rufus had bladder crystals.

Knowing my baby was in pain and suffering from so many other ailments at such a young age just didn't make sense to me. Looking at the ingredients in the dry kibble from the vet, I knew in my heart that those things couldn't be good for him. So, I took matters into my own hands and did some research. Turns out the prescription Rx food the vet had him on was hurting the rest of his body and making him even hungrier!

With the guidance from a new holistic vet and the amazing folks at Holistic Hound pet shop in Berkeley, CA I switched Rufus over to 100% raw, and he's a totally different cat! He's healthy, happy, and doesn't have to put up with me bathing him, or putting ointment in his eyes! He's lost all the weight he needed to, his hunger is totally satisfied, and he runs amuck playing and jumping and exploring like a healthy little cat does. So, thanks a million! You've really changed our lives!
Christy M.
Colorado Springs, co
Two of our dogs had allergies and their skin was pink and itchy. I started feeding them Primal and their skin issues are gone. This sweet girl here, Athena, also has a sensitive stomach and couldn't sleep well at night before we switched. She kept waking up and it sounded as though her food was coming back up, but since she's been on Primal, we all sleep so much better. Now if they could only give us more room at night, that would be awesome!
Michael P.
Abita Springs, LA
It has taken me only around 10 days to successfully transition my Maine Coon kitty off the garbage using both types of Primal. She was diagnosed with IBS and the vet had her on a hydrolyzed protein food, which worked okay for a small time, but eventually my cat went back to making a mess with her diarrhea and vomiting.

Since using Primal, her stool is nice and hard. I use Primal Freeze-Dried Formula in the morning and Primal Raw Frozen Formula in the evening. Amber the Maine Coon kitty has more energy than I have ever seen in her 7 years of life. This stuff is simply amazing! Amber the Maine Coon and I both thank you, Primal!
Sarah
Fairfax, ca
We firmly believe that Primal Pet Foods saved our dog's life. We adopted Obi, a 3-month old Smooth Collie mix from our local shelter and he's been the most loving, comical, sweet, and overall perfect addition to our family.

Obi refused to eat his kibble and every time he did eat, diarrhea followed. He had undetected Giardia for two months while he was a little over a year, and once the vet finally caught it, his GI tract was in bad shape, and he'd lost 15% of his body weight.

He was diagnosed with Irritable Bowel Disease, and the vet suggested a permanent diet of prescription wet and dry food. My husband put his foot down and said he'd had enough of processed food making our poor dog sick, and wanted to try something completely different -- against our vet's advice.

We bought our first bag of Primal and for the first time since we brought Obi home, he inhaled his food every single time we gave him his Primal meal. And aside from his energy, happiness, playfulness, and spirit returning, another miracle occurred: he began having normal bowels for the first time in his life.

Obi is now a little over two years old, and healthy as can be. Everything about him is vibrant, from his coat to his spirit. We are in awe of the gift that Primal has given Obi and our family. (It's a terrible thing to watch your darling pet suffer, with no idea how to provide comfort or normalcy; now, those days are long gone.)

We are genuinely grateful for the product you share with people like us around the country. We are your #1 fans and love your company and products so very much! You changed Obi's life, and in turn, ours, too, and we can never properly thank you for that.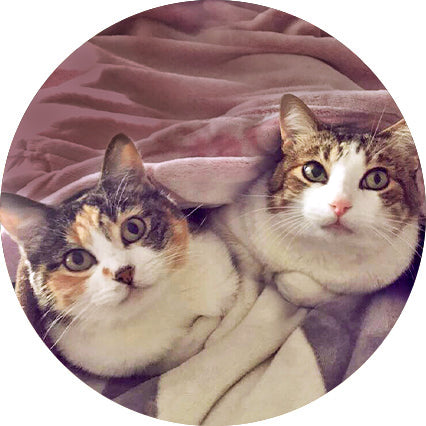 Valerie R.
Lakewood, CA
5 years ago I switched my two senior cats Pepper & Cinnamon to primal & removed kibble from their diet. My boy pepper had surgery for urinary issues. I was on the hunt for a healthier diet. After transitioning to primal, their fur is softer than ever. Pepper hasn't had any urinary issues since I switched and I am so pleased at the results. Pepper and Cinnamon have so much energy that I forget they're 14-15 years of age.

I appreciate primals high quality standards when it comes to sourcing, as well as the unique superfoods like apple cider vinegar, green mussels, & ginger. My cats will Forever be apart of the primal pack! We are excited to see what new goodies are developed in the future.
Kimberly s.
San Pedro, CA
I have known about the benefits of raw for a while and I discovered Primal at a store in Gardena, CA. I bought a Starter Pak thinking there's no way would my cat eat it. Well she ate it and loved it. She liked all 4 flavors in the starter pack!

I purchased a Turkey Formula 3-pound bag after the Starter Pak and the love affair continued. I usually had to entice and my cats to eat their previous food with treats on top, warming, or hand feeding. It was like pulling teeth and it was expensive as most ended up in the trash.

With Primal, my cat eats it so fast I do not have to worry about it going bad in the dish. I am glad she likes her food, and I am shocked to discover that Primal Raw is cheaper than the premium cans I was buying. I plan on screaming this fact from the rooftops.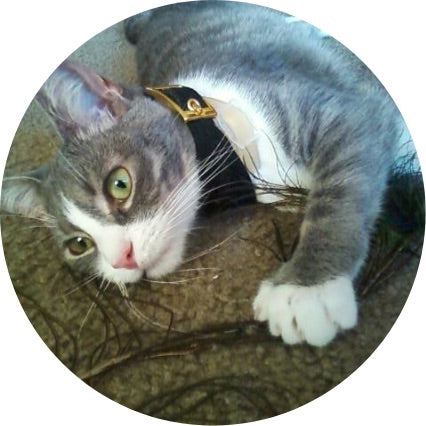 ELLIS F.
Ann Arbor, mi
When we first adopted Link from a cat rescue group at 6 months old, he was on a steady diet of name brand dry food. He was also throwing up several times a week and having irregular, smelly bowel movements. After several doses of antibiotics, it became clear that the problem was something diet related. The vet suggested a diet change to rule out food allergies.

I did some research, and was horrified to discover how unhealthy the food I'd been feeding him was! No wonder he was sick all the time! What he'd been eating was far from being species appropriate! I decided then and there to switch him to a healthier food. I tried several brands of high-end limited ingredient wet food, but he turned his nose up at all of them. I tried several brands of raw food with the same result. He sat there next to his bowl full of raw bits, refusing to touch a bite as he cried for his unhealthy kibble. He was a dry food addict.

I thought I'd have to go back to feeding him dry just so he wouldn't starve, but then I received a free sample of Primal Freeze-Dried Beef & Salmon Formula. I cut it up and re-hydrated it, then doubtfully set down the bowl. He scarfed it down immediately and meowed for a second helping.

The vomiting and diarrhea cleared up immediately, and I would have been thrilled with just that, but it got even better: Link used to routinely get eye infections, but since starting Primal, he hasn't gotten a single one! His stools don't smell at all now, and there are a lot less of them, and he doesn't have awful kitty breath like he used to. He also used to shed like crazy! I'd only have to hold him for a few seconds to get covered in a layer of hair. But since starting Primal, he hardly sheds at all, and his fur is shiny and silky-soft to the touch. He feels like a baby bunny. Thank you for making my fur son so much healthier!
Shelby
Springfield, OH
I was looking for a food and treat my dogs would go crazy for! When I came across Primal products they became a staple in our household, all three of my dogs are in love with everything primal we have tried, we have had their freeze dried nuggets, raw patties, raw pronto, goats milk, bone broth, raw nuggets, all sorts of different flavors and my dogs love them ALL.

They go nuts anytime they see us pull it out and I'm so at rest knowing that the company truly cares about the quality they produce, and they truly are a favorite of ours! We cannot get enough and highly recommend their incredible products! Amazing quality absolutely and it shows in how my dogs thrive off of them and get beyond excited and thrilled when I pull them out!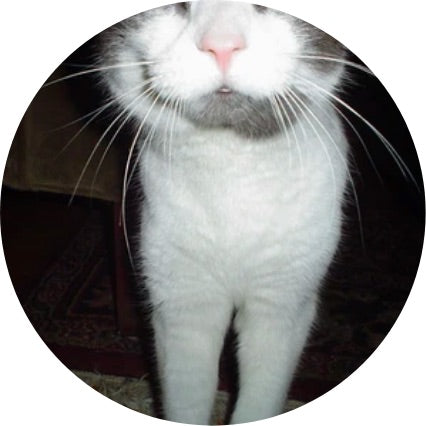 APRIL
Washington, DC
Our cat, Berkeley, was diagnosed with diabetes when he was 5 years old. Our vet had requested a diet consisting of only canned food for diabetes, but he would not progress without the insulin. Dreading a lifetime of needles and frequent vet visits, we started researching different diet options, which revealed a great deal of literature on the issues surrounding processed foods and how they affect obligate carnivores like cats. We added Primal raw food to his diet and within 3 days he no longer needed the insulin! Regular blood testing has revealed that his blood sugar levels have remained entirely normal for over 5 years — and absolutely no insulin!